Drug Addiction and its Ayurveda and Yoga Management: Case Study
Keywords:
Ayurveda, Drug addiction, De-addiction, Shatkarmas, Yoga
Abstract
Addiction is defined as a psychological or physiological dependence on a drug or behaviour that is beyond voluntary control. It's a long-term brain disorder that leads to obsessive substance usage despite negative effects. Addiction has a wide-ranging negative impact on people, as well as society consequences. Sudden withdrawal from any addictive medication might result in psychosomatic illness. Material and method- The material for this article is taken from personal clinical experiences and from various clinical researches on drug addiction, withdrawal, and management those are published in index and non-index journals. To gather pertinent material, Ayurvedic Samhitas with commentaries and textbooks of Ayurveda and Modern medicine are referred. Case report- A 45 year male resident in Tamil Nadu, India visited OPD of Shatkarma Department, Patanjali Ayurvedic Hospital in Haridwar, September 2020 with complaints of drug addiction and other multiple drugs taken, breathlessness while walking since 12 years. Patient had no systemic abnormalities detected during examination. Patient was then advised Shodhana by Shatkarmas followed by Shamana medicines. Patient was followed upto 1 month and he got significant relief in the symptoms caused due to addiction. Result- Shatkarmas along with internal medicines have good results in management of addictive, in management of systemic as well as associated ailments. Conclusion- Withdrawal of addicted drug by Padanshik Karma, symptomatic withdrawal treatment, Shatkarmas, psychological counselling, Yoga and meditation are very helpful in de-addiction of drugs.
Downloads
Download data is not yet available.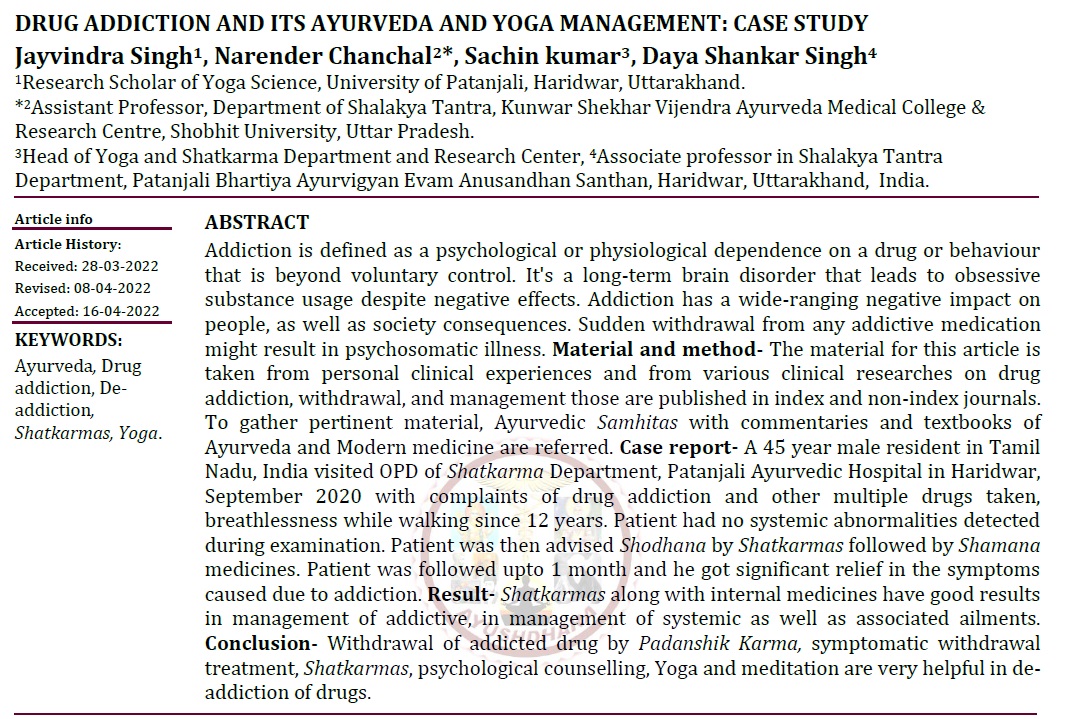 How to Cite
1.
Jayvindra Singh, Narender Chanchal, Sachin kumar, Daya Shankar Singh. Drug Addiction and its Ayurveda and Yoga Management: Case Study. ayush [Internet]. 2022May12 [cited 2023Jan.30];9(2):31-6. Available from: https://ayushdhara.in/index.php/ayushdhara/article/view/922
Copyright (c) 2022 AYUSHDHARA
This work is licensed under a Creative Commons Attribution-NonCommercial-ShareAlike 4.0 International License.